Index
Why I LOVE my EC05 rear-view camera

Modes of communication

Special Note regarding the Camera APP

How to connect to the camera

Camera Specifications in plain English

Setting up the camera APP to view the camera video stream


How to change the password

Setting up the control features
Why I LOVE my EC05 Mini battery powered WiFi camera
This little WiFi camera gives a very clear picture and is ideal for so many tasks because it's so portable and is supplied with a small multi position magnetic angle bracket. Even though this camera is small it does support video stabilization so it is good for when you are using it on the move. I have given a list of possible uses for the mini camera below, one list is for the camera when it in its so-called short-range mode (hot-spot mode) and the other list for it when in the so-called remote connection mode (via the internet) for your interest. By the way the mini camera also has a magnetic base so can be attached to a metal object with ease. You just need to connect the camera to a smartphone or tablet via WIFi and you up and running in no time. I have given step by step instructions below on how to connect to the camera via WiFi. Don't forget, I show a good quality dashboard mount for a tablet in one of my other reviews so have a look if you want one for a motorhome, car or van etc.
For information, this EsiCan EC05 Mini battery powered WiFi camera should not be considered as a contender or replacement for the EsiCam EH05 Rear-view battery powered WiFi camera. This is because whilst it does much the same types of connection it not waterproof, have a long enough battery life and does not have the range of WiFi operating distant to name a few things.
How small is this camera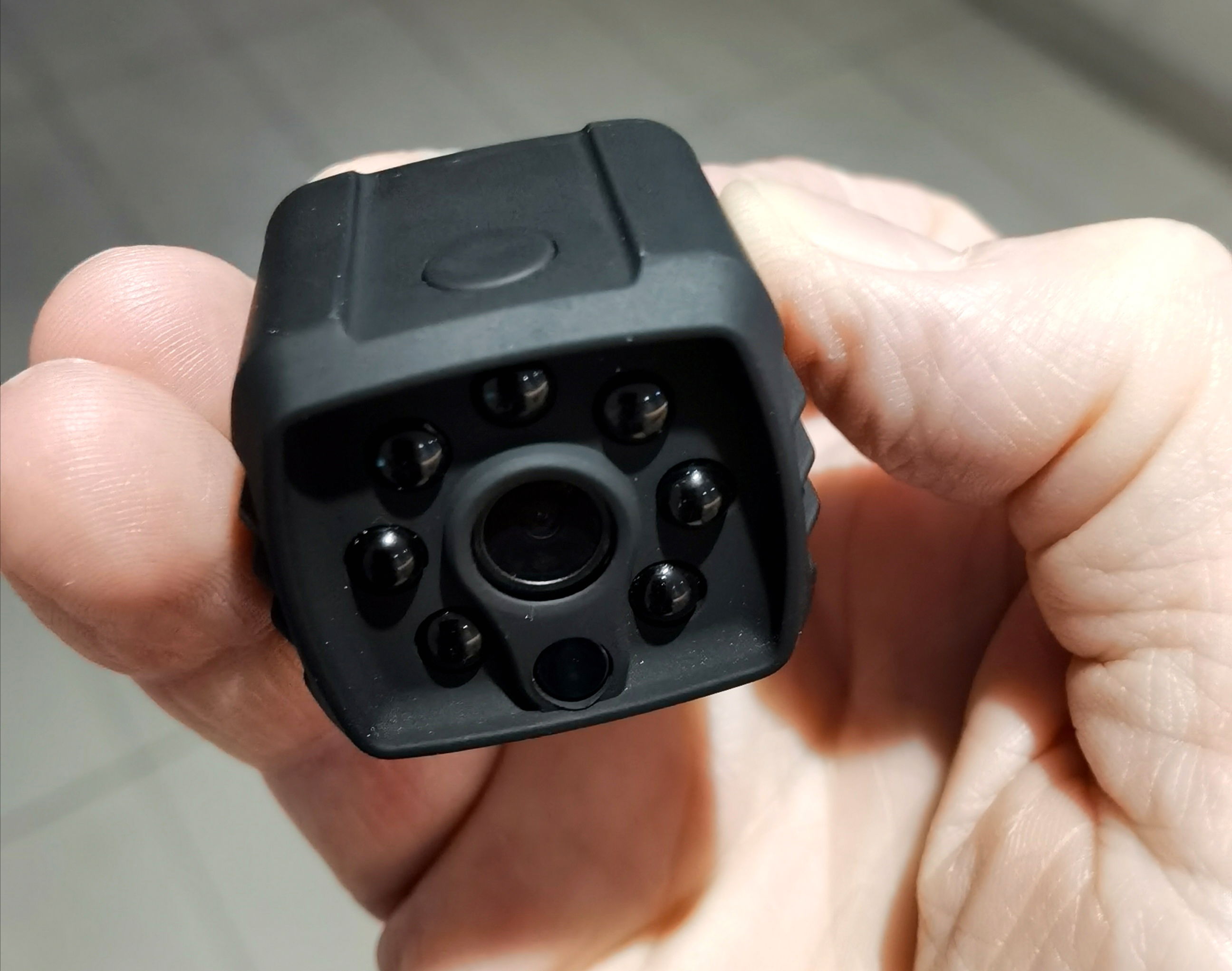 The camera size is just 30 H x 35 W x 35 D cm
The camera offers two modes of working
Short range WiFi mode (direct connection via cameras UDI on WiFi)
Remote connection WiFi mode (view on local network or via the internet)
Short range connection 1.
This little battery powered WiFi camera does not need an internet connection when in its so called "short range connection" mode. This is just what you should be looking for if you want to use this camera for the following reasons: -
A reversing camera
Caravan or trailer hitch camera
Hours box camera
Driving instructors monitoring camera
Caravan on-site security camera
Bicycle action camera
Drone action camera
EsiCam suggest it can be used as a Dash Cam
Remote connection 2.
You can think of this as a local area network or internet connection also known as P2P mode where you can gain access to the mini camera from anywhere in the world where you can get a connection to the internet.
Pet monitor camera
Bird nesting box camera
Baby monitor camera
Hidden or Spy camera
Discreet security camera
Cash till security camera
Office security camera
Keep an eye on a frail person
Power supply for the camera
It will be necessary to consider providing a 5 volt DC Android style micro USB power supply connection to the camera because without the power supply the cameras inbuilt Lithium Polymer battery will give about 1.5 hours of use. See the picture of a typical phone style PSU with micro-USB plug. The camera can also be powered for much longer than 1.5 hours from a battery power bank when used on the move.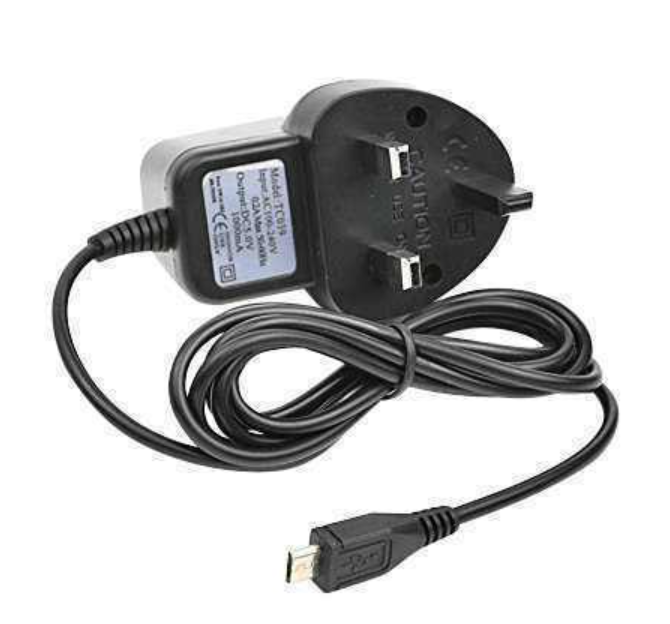 The picture above is a typical plug top with 5 volt DC output
If you touch or click on the image above it will take you to the Amazon site so you can see or purchase this EsiCan Mini battery powered WiFi camera that I have reviewed.
As an Amazon Associate I can earn from qualifying purchases. If you chose buy through the above link it will help me earn a small commission at no extra cost to you.
Special Note regarding the Camera APP
The first thing I came across when I came to install the APP on my Android smartphone and tablet was that the control APP called "HDMiNiCam". I did a search for the APP but it was not available on the Google Play Store or the Apple APP Store. I contacted the manufacturer and they can back to me very promptly and explained the original APP called "HDMiNiCam" had issues with the server so it has been removed from the APP Stores. EsiCam have a new APP called "DodMiniCam" and this is compatible with Android and Apple IOS smartphones and tablets, I've installed it and it works fine on my Android smartphone and tablet.
Specifications
HD 1080P Video, 1920 x 1080p 30 fps, high resolution live streaming
140° horizontal wide Angle Lens
Three recording mode: -
1. Manual recording,
2, Timing recording
3. Motion detection triggered recording
Built in Wifi Hot Spot, send video to your phone or tablet directly ,no need Data Plan, No need for cell service signal. get Real time video on Phone ( 0.8s Lag)
WiFi Wireless Transmission Distance: 10 m /33 feet
6 hidden infrared LEDs without visible lighting
5m night vision distance
Night LED can be turned off in the APP to make it hidden in dark.
Motion Detection Push Alerts
Flip: get normal view even the camera is put upside down
Mirror: swap image from left to right
Invisible IR Night Vision (easy to hide at night)
APP controllable LED indicator can turn off the all LED indicator to make the camera total invisible in dark to hide.
Recording while Charging with micro USB
Built-in Rechargeable Battery 1.5 Hour (Wifi ON), 3 Hours (Wifi OFF), Lithium Polymer battery
One App, Multiple Cameras ,now use "DodMiniCam" APP
One Camera Multiple Users, now use "DodMiniCam" APP
Easy connect to wireless router and work as IP camera
Playback/Snapshot/Record Remotely ,Support FTP upload
FREE APP and PC/Mac software
Smartphone and tablet, iOS and Android/ 2.4GHz Wifi Compatible not 5GHz
Loop Recording to in camera SD card slot
TF card, Max 128GB Micro TF micro SD Card (NOT Included)
Video compression format is H264
Wifi can be turn off by pushing the wifi switch on the back of camera to save power when you don't need to connect the camera to your phone or tablet, this can Extend battery life to approximately 3 Hr.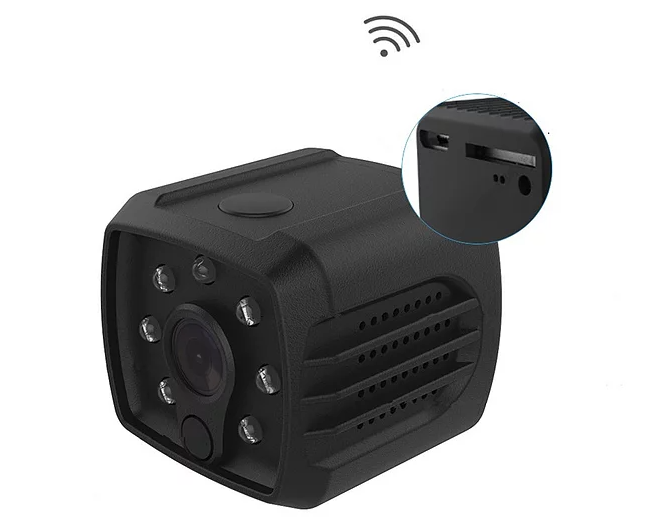 The picture above shows the SD card slot at the rear of the camera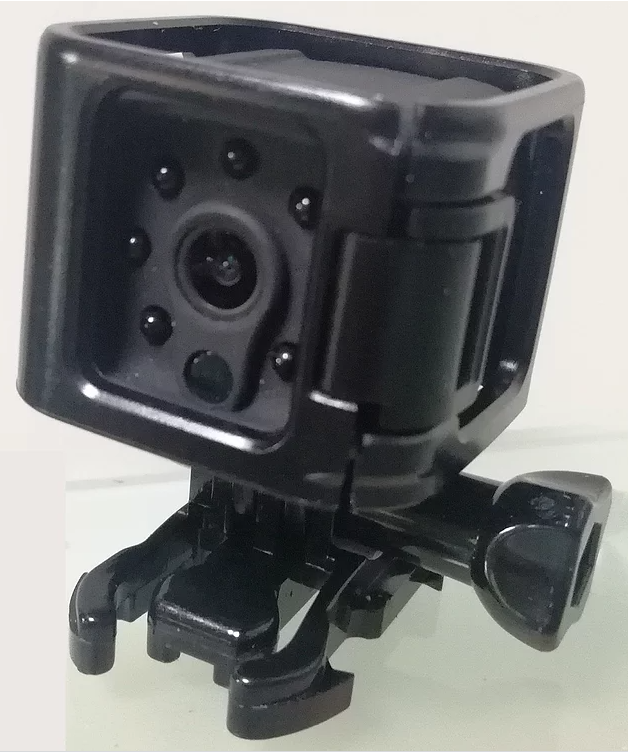 The picture above shows the 3 piece Frame Adaptor for GoPro attachment, so can be mounted on a bicycle etc., supplied in the Package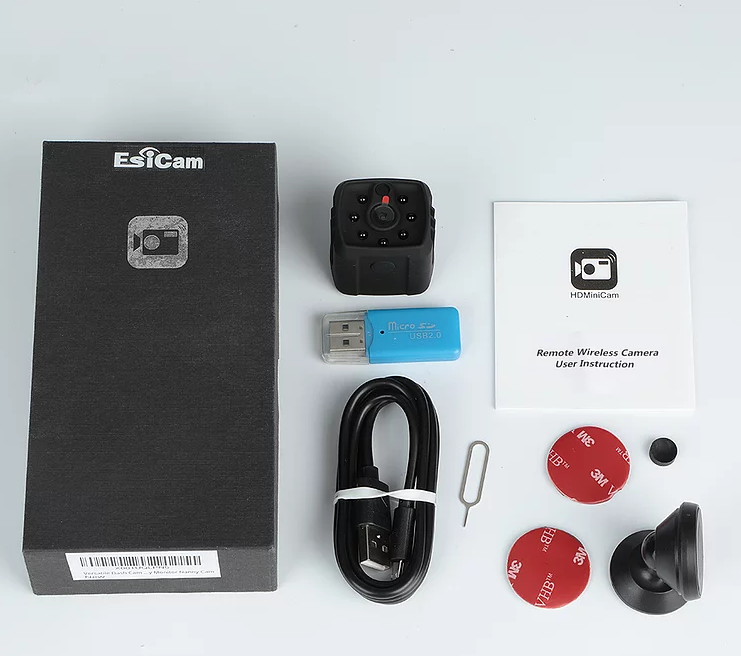 See picture above shows what is in the packing box + the 3 piece frame adaptor
List of items for the EC05 Mini Battery powered WiFi camera
Mini battery powered WiFi camera
USB SD Card adaptor
USB to micro USB lead to connect the camera to PC etc. or for charging from a USB plug top PSU
User Instructions
Pin tool for resetting the camera
3M stickers to attach the angle bracket to a surface
Strong adjustable angle bracket with magnetic mount
Camera packing box
How to connect to the camera
Lets get started, I always say, fully charge the camera and this means you should give the camera a couple of hours or so until the GREEN LED seen at the rear of the camera goes out.
The next step is to reset the camera to the default (short-range connection) mode (see page 5 of user instructions) by pressing the end of the reset tool supplied in the box or a paperclip or similar pointed object into the small reset hole on the rear of the camera (hole is between the power socket and the SD card slot) for 10 seconds.

You need to turn the camera on first by holding down the power button on top of the camera for a second.
Now you have completed the reset, the camera can be connected directly to your smartphone or tablet.
When you turn the camera on again your camera will take approximately 40 seconds to go through the boot cycle (start-up). The BLUE LED will be on and the RED LED will stay on for approximately 2 seconds then off for 1 second then it repeat this cycle continually.
The next stage is to open the WiFi menu in your monitoring device (smartphone or tablet) and search for the UID code "CMFD76-3D0756E1A387-?????? in the listing.

Select the UID code and connect of the camera to it, this will allow you to directly connect the camera to your monitoring device without the need for a router or internet connection.
Following this, you will need to launch the "DodMiniCam" APP on your smartphone or tablet and then select the + button (shown at the top right of the display) to add a camera.

After selecting the + symbol to add a camera you will be presented with a new screen giving three options; select the middle option "Add new online camera".


At this point you can either select QR Scan if you feel confident in using your camera to scan in the QR code shown on the underside of the camera to connect or I recommend selecting the "Search LAN".
By the way it's also possible to use the other option called "add a new camera" to connect to the mini camera by scanning the QR code located on the bottom of the mini camera.

Next, you need to select the "new camera" on the next screen as shown below.

The screen should flip back to the previous screen showing the mini cam name, UID and password dots. You just need to select OK and you will see the mini cam image in a small square with the words "Online" as shown below.

Just select the camera image as shown above and you will get a screen recommending you change your password. See how to change your password below for details. You can choose to skip change the password at this stage, if you want to change your password later and you'll soon see the live mini cam image.
You just need to select confirm and the APP will display the live camera image.

You can now for example use the mini camera anywhere as long you are within 10 metres/ 33 feet of your monitoring device (smartphone or tablet). By the way if you are monitoring your mini cam on your smartphone, you will still be able to receive or make calls as normal.
How to Change the password
Now you have the "DodMiniCam" APP installed and you've connected to the mini camera you should plan to change the camera password as soon as possible. The default password is 8888 so change this to something much more secure like a mixture of letters, numbers.
Setting up the camera control features
The "DodMiniCam" APP will enable you to set up the following features: -
Turn the Alarm function On or OFF, set Motion detection sensitivity, set warning tone, Alarm interval, Push Notification, On-Screen Display ON/ OFF
Modify the camera Name, UID and Password
Can delete a camera
Reconnect a camera
Advanced Configuration for: -
See screenshot below: -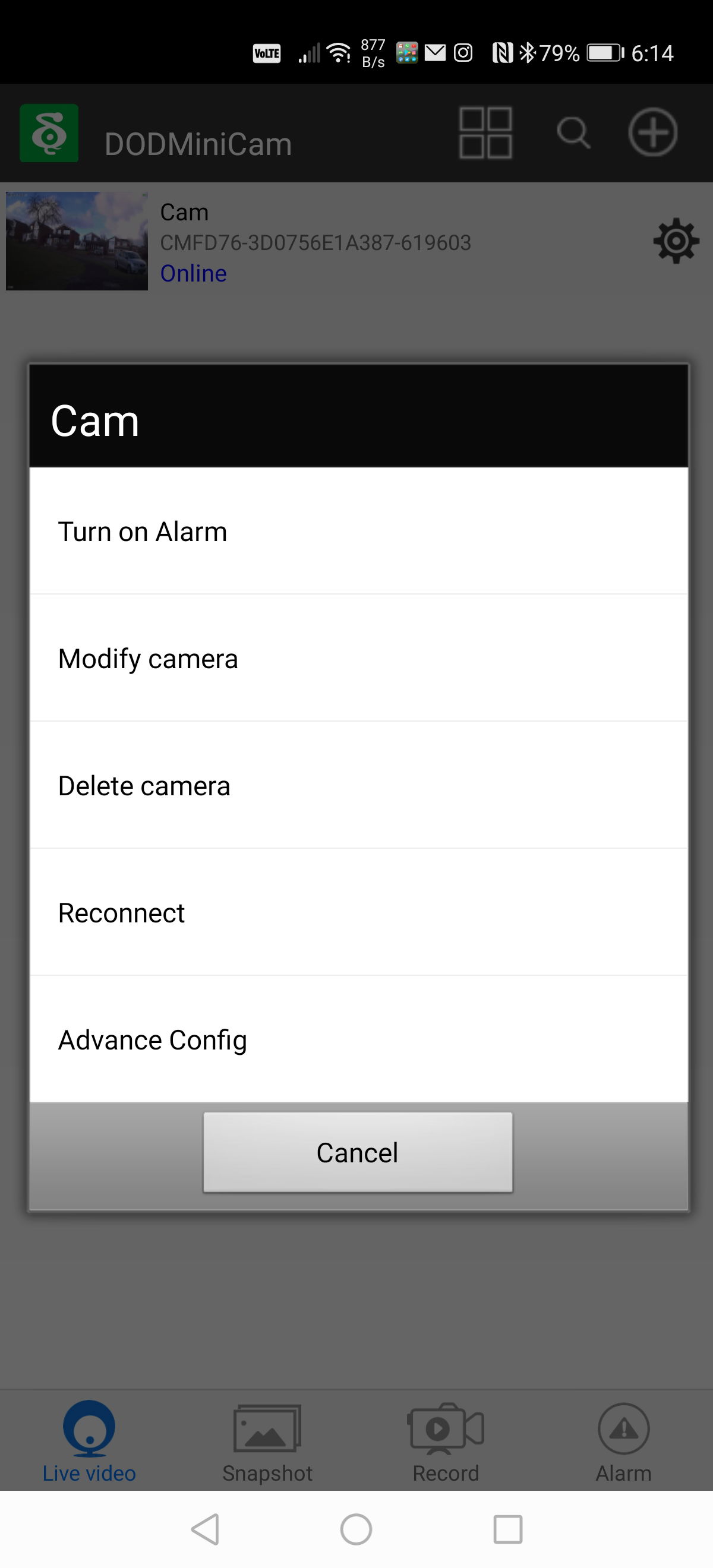 See the Advanced Configuration below: -